Today on the show, the gang tackle a few more news stories, including:
• Comics have been around since the Ancient Roman times
• Ben Grimm and Alicia Master to marry this December
• New Guardians of the Galaxy Lineup
• James Gunn attached to write/direct Suicide Squad 2
• Brie Larson signs on for SEVEN Marvel movies
• Young Justice returns
• And finally, what's the Batwang story?
E-mail us: perfectboundpodcast@gmail.com
The Panel Jumper: thepaneljumper.com / Facebook / Twitter
Comics Dungeon: comicsdungeon.com / Facebook / Twitter
---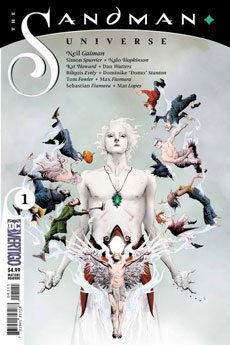 Today on Book Report, Cole reviews The Sandman Universe from Vertigo.
---
Chris reviews the first two rounds of Michel Fiffe's Copra from Bergen Street Press.
---
And finally, Nicole reviews Josh Simmons's Black River from Fantagraphics.